2016 in Review: Graphic Novels
Let's look at some of the awesome graphic novels that were published in 2016!  And if you've missed any of our previous 2016 recaps, click here to see our lists for general fiction, mysteries, psychological suspense, romance, scifi/fantasy/horror, and young adult fiction.
Black Panther Book 1: A Nation Under Our Feet by Ta-Nehisi Coates
GRAPHIC NOVEL BLACK
"A story about dramatic upheaval in Wakanda and the Black Panther's struggle to do right by his people as their ruler. The indomitable will of Wakanda–the famed African nation known for its vast wealth, advanced technology, and warrior traditions–has long been reflected in the will of its monarchs, the Black Panthers. But now the current Black Panther, T'Challa, finds that will tested by a superhuman terrorist group called the People that has sparked a violent uprising among the citizens of Wakanda. T'Challa knows the country must change to survive–the question is, will the Black Panther survive the change?" – Provided by publisher.
---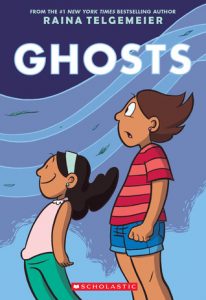 Ghosts by Raina Telgemeier
J GN GHOSTS
"Catrina and her family have moved to the coast of Northern California for the sake of her little sister, Maya, who has cystic fibrosis–and Cat is even less happy about the move when she is told that her new town is inhabited by ghosts, and Maya sets her heart on meeting one." – Provided by publisher.
---
How to Talk to Girls at Parties by Neil Gaiman
GRAPHIC NOVEL HOW
"Enn is a fifteen-year-old boy who just doesn't understand girls, while his friend Vic seems to have them all figured out. Both teenagers are in for the shock of their young lives, however, when they crash a local party only to discover that the girls there are far, far more than they appear!"- Provided by publisher.
---
March, Book 3 by John Lewis
GRAPHIC NOVEL MARCH
"By the fall of 1963, the Civil Rights Movement has penetrated deep into the American consciousness, and as chairman of the Student Nonviolent Coordinating Committee, John Lewis is guiding the tip of the spear. Through relentless direct action, SNCC continues to force the nation to confront its own blatant injustice, but for every step forward, the danger grows more intense: Jim Crow strikes back through legal tricks, intimidation, violence, and death. The only hope for lasting change isto give voice to the millions of Americans silenced by voter suppression:"One Man, One Vote." With these new struggles come new allies, new opponents, and an unpredictable new president who might be both at once. But fractures within the movement are deepening … even as 25-year-old John Lewis prepares to risk everything in a historic showdown high above the Alabama river, in a town called Selma." — Provided by publisher.
---
Monstress Vol. 1 by Marjorie Liu
GRAPHIC NOVEL MONSTRESS
"Set in an alternate matriarchal 1900's Asia, in a richly imagined world of art deco-inflected steam punk, Monstress tells the story of a teenage girl who is struggling to survive the trauma of war, and who shares a mysterious psychic link with a monster of tremendous power, a connection that will transform them both and make them the target of both human and otherworldly powers." — Provided by publisher.
---
Paper Girls, Vol. 1 by Brian K. Vaughan
GRAPHIC NOVEL PAPER
"In the early hours after Halloween on 1988, four 12-year-old newspaper delivery girls uncover the most important story of all time. Suburban drama and supernatural mysteries collide in this series about nostalgia, first jobs, and the last days of childhood." — Provided by publisher.

---
Rosalie Lightning: A Graphic Memoir by Tom Hart
GRAPHIC NOVEL ROSALIE
"Eisner-nominated cartoonist Tom Hart's beautiful and touching graphic memoir about the untimely death of his young daughter, Rosalie. His heart-breaking and emotional illustrations strike readers to the core, and take them along his family's journey through loss. Hart uses the graphic form to articulate his and his wife's on-going search for meaning in the aftermath of Rosalie's death, exploring themes of grief, hopelessness, rebirth, and eventually finding hope again. Hart creatively portrays the solace he discovers in nature, philosophy, great works of literature, and art across all mediums in this expressively honest and loving tribute to his baby girl. Rosalie Lighting is a graphic masterpiece chronicling a father's undying love"– Provided by publisher.
---
Sacred Heart by Liz Suburbia
GRAPHIC NOVEL SACRED
"The children of U.S. small-town Alexandria are just trying to live like normal teens until their parents' promised return from a mysterious, four-year religious pilgrimage, and Ben Schiller is no exception. She's just trying to take care of her sister, keep faith that her parents will come back, and get through her teen years as painlessly as possible. But her relationship with her best friend is changing, her younger sister is hiding a dark secret, and a terrible tragedy is coming for them all. Filled with teenage loves and fights and parties, Sacred Heart is a wonderful coming-of-age graphic novel set against the threat of a big reckoning that everyone fears is coming but has no proof." — Provided by publisher.
---
Spider Gwen, Vol. 1: Greater Power by Jason Latour
GRAPHIC NOVEL SPIDER-G
"The Spider-woman of Earth-65 was convinced that the Lizard's threat died in her arms along with Peter Parker. But a new reptilian rampage leaves her with doubts not only about Peter's life, but also his death. While her father, Captain George Stacy, struggles with Gwen's double life, troubles mount as the Osborns make their debut–and Gwen finds herself on S.H.I.E.L.D.'s most-wanted list! Perhaps some wise lessons about power and responsibility that might come in handy when Gwen battles the Goblins! Plus: discover who wields the shield as Earth-65's Captain America joins the fray–but will she be on Gwen's side?" — Provided by publisher.
Happy reading!
—Katie, Adult Reference
Save