2016 in Review: General Fiction
The "Best Of" lists are rolling in, and we're going to be picking and choosing some of the titles you may have missed over the course of the year!  Keep checking every Monday between now and the end of December for more genres and more books to add to your reading lists.
We're kicking off the first post with "General Fiction."  It's a catch-all category that encompasses literary fiction, historical fiction, book club picks, and other books that defy categorization.  Click on a cover or a title to place a hold.
Britt-Marie Was Here by Frederik Backman
FICTION BACKMAN
"Britt-Marie can't stand mess. A disorganized cutlery drawer ranks high on her list of unforgivable sins. She begins her day at 6 a.m., because only lunatics wake up later than that. And she is not passive-aggressive. Not in the least. It's just that sometimes people interpret her helpful suggestions as criticisms, which is certainly not her intention. She is not one to judge others—no matter how ill-mannered, unkempt, or morally suspect they might be. But hidden inside the socially awkward, fussy busybody is a woman who has more imagination,bigger dreams, and a warmer heart that anyone around her realizes." — Provided by publisher
---
Everyone Brave is Forgiven by Chris Cleave
FICTION CLEAVE
"Set in London during the years of 1939-1942, when citizens had slim hope of survival, much less victory; and on the strategic island of Malta, which was daily devastated by the Axis barrage, Everyone Brave is Forgiven features little-known history and a perfect wartime love story inspired by the real-life love letters between Chris Cleave's grandparents. This dazzling novel dares us to understand that, against the great theater of world events, it is the intimate losses, the small battles, the daily human triumphs that change us most." — Provided by publisher
---
The Hopefuls by Jennifer Close
FICTION CLOSE
"When Beth arrives in Washington, D.C., she hates everything about it: the confusing traffic circles, the ubiquitous Ann Taylor suits, the humidity that descends each summer. At dinner parties, guests compare their security clearance levels. They leave their BlackBerrys on the table. They speak in acronyms. And once they realize Beth doesn't work in politics, they smile blandly and turn away. Soon Beth and her husband, Matt, meet a charismatic White House staffer named Jimmy and his wife, Ashleigh, and the four become inseparable, coordinating brunch, birthdays, and long weekends away. But as Jimmy's star rises higher and higher, their friendship–and Beth's relationship with Matt–is threatened by jealousy, competition and rumors. A glorious send-up of young D.C. and a blazingly honest portrait of a marriage, this is the finest work yet by one of our most beloved writers"– Provided by publisher.
---
Sweetbitter by Stephanie Danler
FICTION DANLER
"'Let's say I was born when I came over the George Washington Bridge …' This is how we meet unforgettable Tess, the 22-year-old at the heart of this stunning debut. Shot like a bullet from a mundane past, she's come to New York to escape the provincial, to take on her destiny. After she stumbles into a coveted job at a renowned Union Square restaurant, we spend the year with her as she learns the chaotic, punishing, privileged life of a "backwaiter," on and off duty. Her appetites are awakened, for food, wine, knowledge and experience; and she's pulled into the thrall of two other servers–a handsome bartender she falls hard for, and an older woman whose connection to both young lovers is murky, sensual, and overpowering. These two will prove to be Tess's hardest lesson of all."– Provided by publisher.
---
Jane Steele by Lyndsay Faye
FICTION FAYE
"A sensitive orphan, Jane Steele suffers first at the hands of her spiteful aunt and predatory cousin, then at a grim school where she fights for her very life until escaping to London, leaving the corpses of her tormentors behind her. After years of hiding from the law while penning macabre "last confessions" of the recently hanged, Jane thrills at discovering an advertisement. Her aunt has died and her childhood home has a new master: Mr. Charles Thornfield, who seeks a governess.  Burning to know whether she is in fact the rightful heir, Jane takes the position incognito and learns that Highgate House is full of marvelously strange new residents–the fascinating but caustic Mr. Thornfield, an army doctor returned from the Sikh Wars, and the gracious Sikh butler Mr. Sardar Singh, whose history with Mr. Thornfield appears far deeper and darker than they pretend. As Jane catches ominous glimpses of the pair's violent history and falls in love with the gruffly tragic Mr. Thornfield, she faces a terrible dilemma: Can she possess him–body, soul, and secrets–without revealing her own murderous past?" — Provided by publisher
---
Homegoing by Yaa Gyasi
FICTION GYASI
"Two half sisters, Effia and Esi, unknown to each other, are born into two different tribal villages in 18th century Ghana. Effia will be married off to an English colonial, and will live in comfort in the sprawling, palatial rooms of Cape Coast Castle, raising half-caste children who will be sent abroad to be educated in England before returning to the Gold Coast to serve as administrators of the Empire. Her sister, Esi, will be imprisoned beneath Effia in the Castle's women's dungeon, and then shipped off on a boat bound for America, where she will be sold into slavery. Stretching from the tribal wars of Ghana to slavery and Civil War in America, from the coal mines in the north to the Great Migration to the streets of 20th century Harlem, Yaa Gyasi's has written a modern masterpiece, a novel that moves through histories and geographies and–with outstanding economy and force–captures the troubled spirit of our own nation"– Provided by publisher.
---
Sweet Lamb of Heaven by Lydia Millet
FICTION MILLET
"Anna, a young mother, tries to escape from her marriage to Ned, a cold and unfaithful husband who has just launched his first campaign for political office. When Ned chases Anna and their six-year-old daughter from Alaska to Maine, the two go into hiding in a run-down motel on the coast. But the longer they stay, the less the guests in the dingy motel look like typical tourists―and the less Ned resembles a typical candidate. As his pursuit of Anna and their child moves from threatening to criminal, Ned begins to alter his wife's world in ways she never could have imagined." — Provided by publisher
---
Truly Madly Guilty by Liane Moriarty
FICTION MORIARTY
"Sam and Clementine have a wonderful, albeit, busy life: they have two little girls, Sam has just started a new dream job and Clementine, a cellist, is busy preparing for the audition of a lifetime. If there's anything they can count on, it's each other. Clementine and Erika are each other's oldest friends. A single look between them can convey an entire conversation. But theirs is a complicated relationship, so when Erika mentions a last minute invitation to a barbecue with her neighbors, Tiffany and Vid, Clementine and Sam don't hesitate. Having Tiffany and Vid's larger than life personalities there will be a welcome respite. Two months later, it won't stop raining, and Clementine and Sam can't stop asking themselves the question: What if we hadn't gone?" — Provided by publisher
---
What is Not Yours is Not Yours by Helen Oyeyemi
FICTION OYEYEMI
"The stories collected in What Is Not Yours Is Not Yours are linked by more than the exquisitely winding prose of their creator: Helen Oyeyemi's ensemble cast of characters slip from the pages of their own stories only to surface in another. The reader is invited into a world of lost libraries and locked gardens, of marshlands where the drowned dead live and a city where all the clocks have stopped." — Provided by publisher
---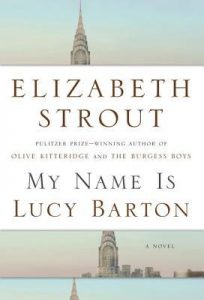 My Name is Lucy Barton by Elizabeth Strout
FICTION STROUT
"Lucy Barton is recovering slowly from what should have been a simple operation. Her mother, to whom she hasn't spoken for many years, comes to see her. Gentle gossip about people from Lucy's childhood in Amgash, Illinois, seems to reconnect them, but just below the surface lie the tension and longing that have informed every aspect of Lucy's life: her escape from her troubled family, her desire to become a writer, her marriage, her love for her two daughters. Knitting this powerful narrative together is the brilliant storytelling voice of Lucy herself: keenly observant, deeply human, and truly unforgettable." — Provided by publisher
---
The Vinegar Girl by Anne Tyler
FICTION TYLER
"Kate Battista feels stuck. How did she end up running house and home for her eccentric scientist father and uppity, pretty younger sister Bunny? Plus, she's always in trouble at work – her pre-school charges adore her, but their parents don't always appreciate her unusual opinions and forthright manner. Dr. Battista has other problems. After years out in the academic wilderness, he is on the verge of a breakthrough. His research could help millions. There's only one problem: his brilliant young lab assistant, Pyotr, is about to be deported. And without Pyotr, all would be lost. When Dr. Battista cooks up an outrageous plan that will enable Pyotr to stay in the country, he's relying – as usual – on Kate to help him. Kate is furious: this time he's really asking too much. But will she be able to resist the two men's touchingly ludicrous campaign to bring her around? Anne Tyler's retelling of Shakespeare's play, The Taming of the Shrew." — Provided by publisher
Happy reading!  And check back next week for mysteries and psychological suspense!
— Katie, Adult Reference